R.I. Home Prices Continue to Climb Despite Falling Sales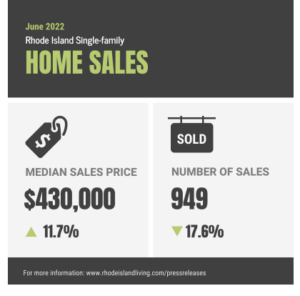 Warwick, R.I. – July 14, 2022 – June home sales statistics reveal a changing housing market in Rhode Island, one marked by prices which continue to escalate despite a five-month downward trend in single-family home sales.
At $430,000, the median price of single-family homes increased 11.7% last month compared to June 2021, hitting an all-time high. Monthly median sales prices have gone up each month from the prior year by 10% or more since July of 2020.
Rising interest rates are adding to the state's housing affordability woes and suppressing Rhode Island's single-family home sales, which fell year over year by 17.6% last month. Sales under contract in June but not closed by month's end fell 25.4%, a sign the slowdown in activity will carry into the months ahead.
"Last month, we experienced the lowest number of sales in June since 2014. We've turned a corner, but we still have quite some time to go before we reach a balanced market. We've gained a little bit on the supply side but there's still a significant shortfall," said Agueda Del Borgo, President of the Rhode Island Association of Realtors.
Del Borgo further explained that there was a 1.8-month supply of homes on the market last month, up from the low of .84-months earlier this year, but still far from the six-month supply that characterizes a market balanced between supply and demand.
"Rhode Island still lags most other states in building starts and many homeowners who recently refinanced to low rates are hesitant to make a move and give up favorable mortgage rates. These are two major factors exacerbating the housing shortage," said Del Borgo.
The condominium market echoed the same trends as the single-family home sector with closed sales falling by 30.8% and pending sales decreasing by 25.7%. Condominiums remained the most accessible option to first-time homeowners however, with a median price over $100,000 less than that of single-family home sales. Properties in that segment of the market edged up 6.8% from a year earlier, to $320,500.
Sales of multifamily homes fell 15.1% last month and those under contract dropped 31.2%. The median price increased 17.8% in a year, to $430,000. Skyrocketing rents have enticed investors to the multifamily market, making it difficult for first-time homebuyers, often less financially advantaged, to gain entry into the multifamily home market.