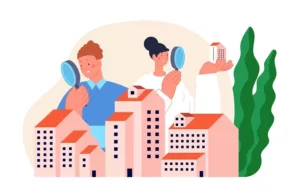 Things are a little different now.
Traditional advice was to always avoid renting sight unseen. You would always make sure to visit the place in person.
But then 2020 came, with pandemics and lockdowns and virtual everything. Suddenly, buying a car or touring an apartment could be done from the comfort of your couch.
It's still advisable to try to see your apartment before you sign the lease, but renting sight unseen is no longer as much of a red flag as it used to be. As long as you follow a few basic guidelines and manage your expectations. If you are someone who is very particular maybe sight unseen isn't for you.
There's only so much that your thorough online research is able to reveal about a place. Photos can tell part of the story, but not all of it. If a picture is worth a thousand words, an apartment visit is worth a billion. It's important but sometimes it's not always an option.
Tips to follow when renting sight unseen
That being said, there are times when you may find yourself in a situation where you're forced to take the plunge. Maybe you're moving across the country to a new city and can't afford to visit apartments first. Or you don't feel safe touring a new unit due to the pandemic.
If your circumstances require you to rent an apartment sight unseen, you can still do a thorough search.
1. Research, research and more research
If you can't physically be in the apartment, then you need to find as much information as you can to make you feel as though you are there. This means beyond just looking at pictures.
Get on Google Maps and explore the area. Street View is going to be your new best friend. This is going to be important not just for those Saturday nights you stay out late but also for identifying the nearest grocery store, pharmacy and offerings and amenities in the area (nobody wants to spend 20 minutes driving to the gym every day).
While you're on Google Street View, be sure to check out any nearby businesses that may give off a strong smell. You might think you like pizza now, but live above a pizzeria for 12 months and it's likely that the mere mention of tomato sauce will make you break out in hives.
2. Do virtual tours
Ask your Realtor for a virtual tour via Skype or FaceTime, or at the very least, have them send you a video tour. During the walkthrough, be sure to take lots of notes, and write down questions for the landlord to answer.
A virtual tour will give you an idea of what the place actually looks like and how it's laid out, which is better than photos that can be touched up or taken with certain lenses that distort the view and size of the room.
3. Phone a friend
If you have any friends in the area, you can enlist them to be the eyes on the ground. Ask them really nicely to check out any potential apartments for you and take copious notes and lots of photos and videos. They'll be more willing to help if you frame it as a spy mission.